Wooden Trailer Tongue Extension
Built by
Kevin Pearce, Precision 18 #358
Kevin wanted a trailer tongue extension to aid in the launching of his Precision 18 sailboat. So, he made one about 8-feet long using 4" by 4" pressure treated lumber.

It has a ball that attaches to the trailer's coupler and a slot that accepts the trailer's skid plate. A bolt through the tongue extension locks it into the skid plate. See drawing below: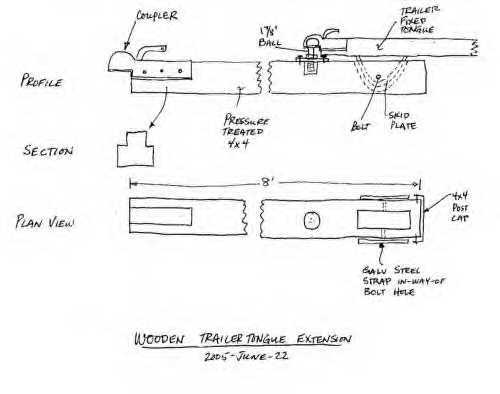 A photo showing the coupler attached to the 8-foot extension.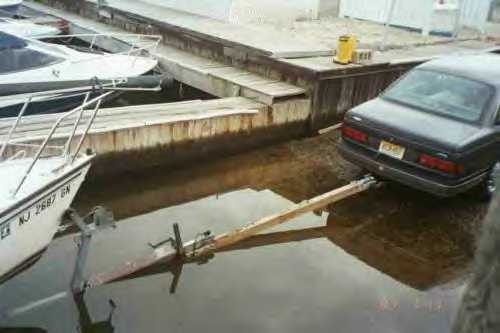 Another photo showing the top view of the slot cut in the aft end of the 8-foot extension. In this slot, the trailer tongue skid is inserted and held with a bolt.

Side view of the area where the slot is cut. The hole for the retaining bolt is shown at the bottom of the wooden extension, drilled into the metal strap.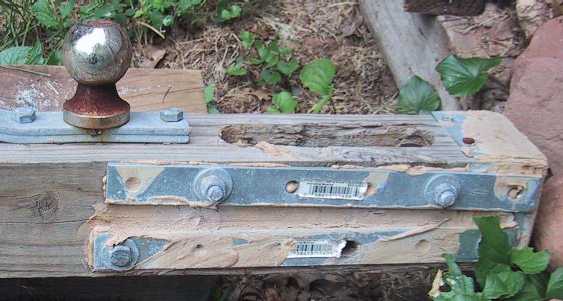 Kevin uses the extension only to avoid getting his car wet at the ramp. He removes the extension as soon as he reaches the top of the ramp, before driving anywhere, even around the parking lot.
For details, contact:
Kevin Pearce
GRAND MARNIER, P-18 #358