The Toybox, my P-27, has a Universal M2-12 diesel with a Hurth HBW50[ZF 5M] transmission. I have acquired all the manuals for this equipment and have scanned them to pdf.
They have been helpful to me, I hope you find them helpful.
The files presented are zipped. Unzip to read.
Note that I have entered additional information on the covers of some of these manuals, including my M2-12's serial. Both Marysville and Torresen often require a serial number before ordering parts, so make sure you cross out my info and add your own.
200157_M12->M50_Owners_Manual_7.69MB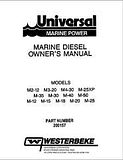 http://www.mediafire.com/download/ab596 ... al.pdf.zip