Cockpit Locker Tray, Precision 18
| | |
| --- | --- |
| | The wood parts which form the cockpit locker "tray" and "riser" for the lid opening. The latter is to close the rather wide gap between the underside of the locker lid and the lip of the opening. |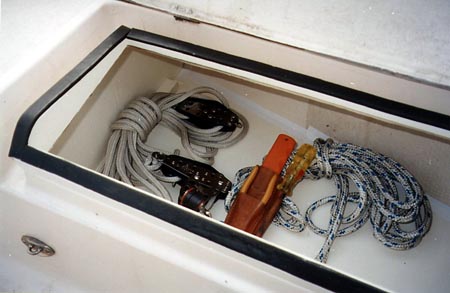 The completed cockpit locker. The "tray" is screwed down to the top of the battery molding. the top of the "riser" is covered with black closed cell foam tape to seal the opening when the lid is down.
| | |
| --- | --- |
| Looking aft down the starboard quarter berth, showing the end of the locker "tray". On the lower right of the picture is some of the foam wedged under the cockpit footwell, which is part of the flotation system. | |
Bob Mendes' Precision 18, #403, "Flood Tide"